About Phil Hilton- Artist



Phil Hilton started painting as a youngster; first in oils, then as a young adult he gravitated to acrylics. About 1976 he gave watercolors a try, and that has been his life ever since.
Always seeking improvement, Phil credits his realistic style to the many teachers and professionals from whom he has learned over the years. He enjoys sharing his gift
and knowledge of painting, and has taught watercolor for over thirty five years in many venues, including aboard the ships of several major cruise lines.
He has also published an instructional book titled, "
Watercolor for Beginning Students
," which is available from several online booksellers.
He claims his greatest artistic achievement to date is becoming a signature member of the Florida
Watercolor Society in 2003. His submissions to art
shows and exhibitions have garnered him awards in six states, and his work is becoming more well
known each year.
Phil says that rather than offer some
philosophical statement regarding his views on
art or painting, he'd rather let his work speak for itself.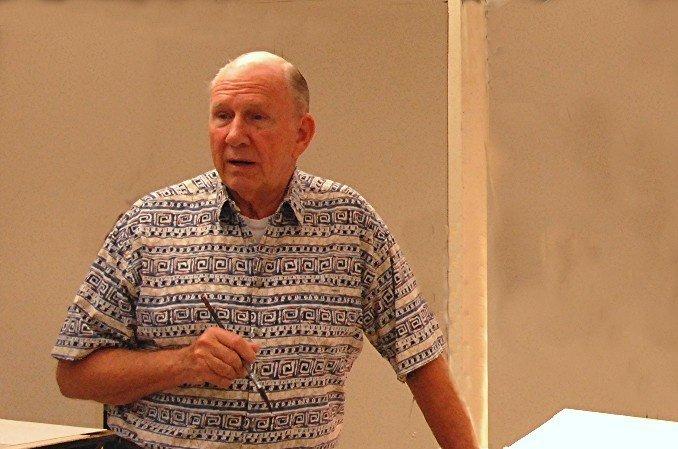 Phil Has taught for over
25
years,and in recent years
been
an instructor on the
Princess, Royal Caribbean and Norwegian Cruise Llines

His instructional book has proven popular with his students and among those who want to learn the basic techniques of watercolor paintin
g.
Exhibits and Awards

Attleboro, (MA) Art in the Park, Exhibitor, 1977
Mansfield, (MA) Festival of the Arts, Honorable mention, 1978
Foxboro, (MA) Public Library, One Man Exhibition, 1978
Wickford, (RI) Greater New England Juried Outdoor Art Show, Exhibitor, 1979
New Hampshire Electric Co. Art Exhibition, Best in Show, 1984
Murraysville, (PA) All Arts Show, Winner, Popular Award, 1987
Allegheny Community College Annual Art Show, 2nd Place, 1987
Jacobsen Frame Co., Pittsburgh, PA, Featured Artist, Oct-Nov, 1987
Greater Monroeville, (PA) Arts Festival, 2nd Place, 1987
AAAP Art Show, Pittsburgh, PA, Cappy & Co cash award, 1987
Artisan's Showplace Gallery, Pittsburgh, PA, Exhibitor, Oct - Nov 1988
East Suburban Art League, Freeport, PA, Best in Show, 1988
Penn Art Association, Pittsburgh, PA, 1st and 3rd ribbon awards, 1988
Allegheny Community College Annual Art Show, 1st Place, 1988
All Arts Gallery, Pittsburgh, PA, Exhibitor, 1989
Christian Art, Penn Hills, PA, Popular award–Judges award-1st and 3rd
Spring Hill,(FL) Art League Annual Exhibit, 2nd Place, 1993
Spring Hill,(FL) Art League Annual Exhibit, SunBank cash award and
Best in Show, 1994
Hernando County Light Co. Spring Hill, FL, 1st and 3rd awards, 1995
Hernando County Fair Art Exhibit, Best in Show, 1996
Withlacoochee Electric Co, Spring Hill, FL Featured Artist Jul – Aug, 1997
City of Brooksville, FL, Permanent collection, 2001
Stage West Community Theater, Spring Hill, FL, one man show, 2001
Harborside Event Center, Ft Myers, FL, Permanent exhibit 2002
The Jacaranda, Sanibel, FL, Permanent Exhibition, 2003
Sanibel/Captiva, FL, City Council Exhibit, Exhibitor, 2004
Bonita Springs, FL, Regional Art Gallery Exhibit, 1st place, 2006
The FLORIDA WATERCOLOR SOCIETY
The largest state watercolor society in the United States holds an annual competition to enter its exhibitions. It requires acceptance in three such exhibitions to acquire the status of Signature Member. Phil Hilton became a signature member by being accepted by the professional jurors of FWS and exhibiting at the following locations:

Daytona Gallery, Daytona Beach, FL – 2001
Appleton Museum, Ocala, FL – 2002
Dunedin Fine Arts Gallery, Dunedin, FL - 2003
Shell Point Painters Guild exhibits - 2020 - 22
Triby Arts Center - legacy gallery
Honorary exhibit sponsored By Shell Point - 2022